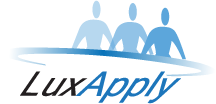 Live Sites with Preview button
These are live sites, with a "Preview" button to allow applicants to view the application prior to creating an account.
Sample Applications
These are static versions of applications, all buttons are click able, but there is no database or dynamic content attached.
Sample Look and Feel
More Information
LuxApply is part of the LuxGO family of services. For more information on what Lux can do for you, visit luxcg.com.